Lozenge system
The lozenge system is used for covering of large and small inclined and vertical surfaces on zinc roofs. The standard NedZink lozenge system consists of small, uniform bent plates that hook onto each other. The most common form of a lozenge is the square, although the rhombus is also frequently used. In this book, the square lozenge will be discussed. In addition to lozenge, the names zinc tiles and zinc slates are also used. Lozenges provide a good solution for the cladding of moderately curved surfaces. When hooked together, the lozenges form a mosaic of uniform surfaces with vertical and horizontal diagonals.
See also:
Lozenge system on a ventilated system
Lozenge system on a damp proof system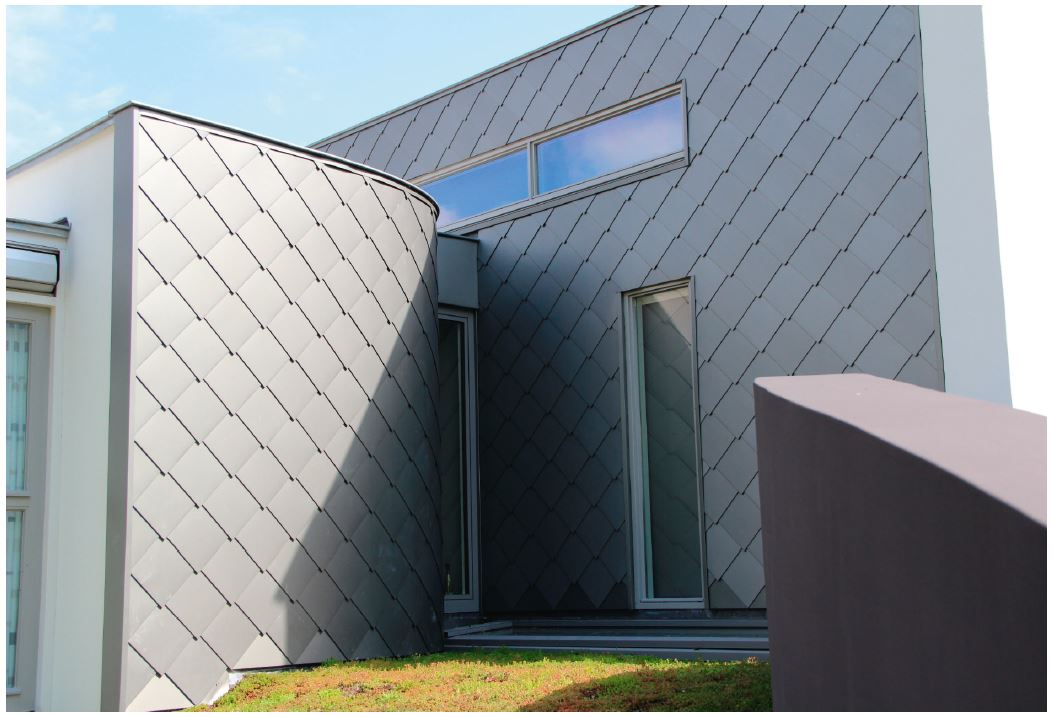 Specifications of standard components
Figure 6.3.1 is a schematic representation of the lozenge system. Aside from the standard lozenges, other dimensions are also possible. The square lozenges are bent 25 mm as shown in Figure 6.3.2.
Figure 6.3.3 A shows the half-lozenge for eaves abutment and figure 6.3.3 B shows the half-lozenge for ridge abutment. Sizes and material thicknesses are the same as with whole lozenges. With a "top" half-lozenge, both a sliding clip and a soldered clip can be used.
Sliding clip, 70 mm x 50 mm
Material thickness as for the lozenge. The sliding clip functions as a support clip. These support clips can be made by the sheet metal worker himself.
Soldered clips
Width: 50 mm, length approx. 100 mm, depending on the location and space for fitting on the base. The clip can be made by the sheet metal worker himself and soldered to the lozenge.
Profiles
The dimensions of the eaves profiles, attachment profiles, etc. will depend on the on-site dimensions and can either be made by the sheet metal worker or supplied custom-made in lengths as custom items.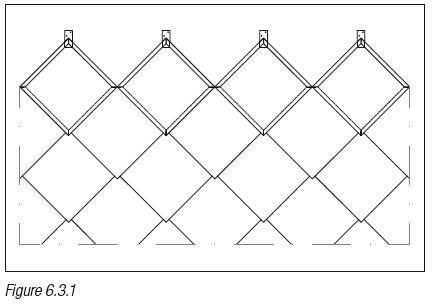 | Lozenge size | Cutting size | Number/m2 |
| --- | --- | --- |
| 450 x 450 mm | 500 x 500 mm | approx. 5,6 |
| 280 x 280 mm | 330 x 330 mm | approx. 15,3 |
| 200 x 200 mm | 250 x 250 mm | approx. 32 |
Tabel 6.3.1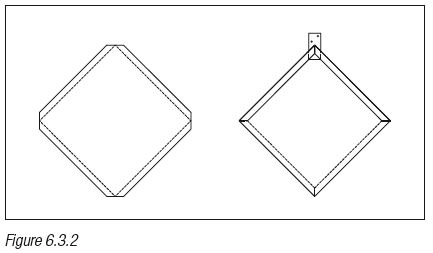 | Lozenge size width 'b' | Cutting size | Number/m2 |
| --- | --- | --- |
| 200 mm* | 250 mm | approx. 25,6 |
| 250 mm* | 300 mm | approx. 15,3 |
| 280 mm* | 330 mm | approx. 11,9 |
Table 6.3.2 Dimensions of standard lozenge, rhombus, vertex 50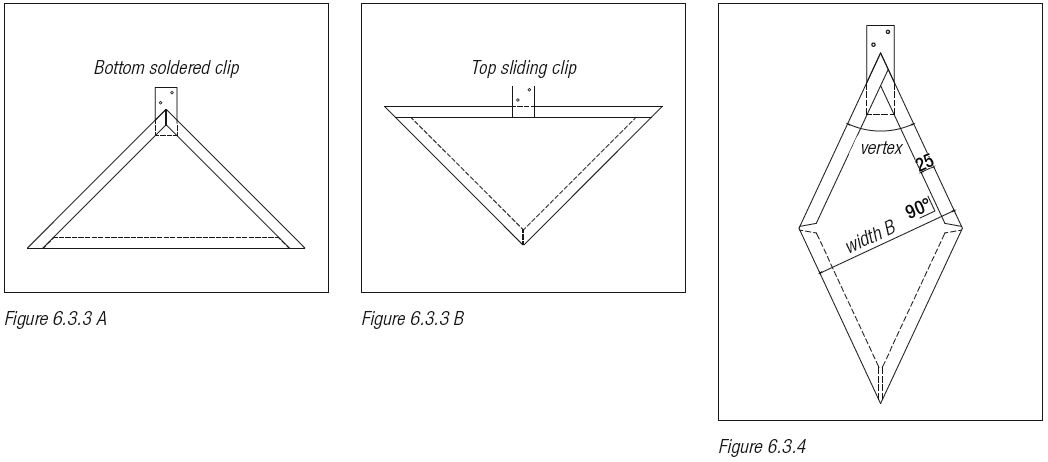 Support
The lozenge roof must be fully supported by timber, preferably of rough, unplanned boards, 23-25 mm thick and not tongue and -grooved, with gaps of at least 5 mm. Use galvanised nails with a zinc-layer thickness of at least 20 microns or AISI 304 stainless steel for fastening.