The roll cap roof system is suitable for large and small zinc roofs with a pitch of the roof of at least 3°, preferably > 7°, and as façade cladding. The standard NedZink roll cap roof consists of zinc bays with upstands on both sides and separated by trapezoidal wood rolls. Zinc caps are used to cover these wood rolls. This gives the roll cap its characteristic and robust appearance.
A roll cap roof is a cladding that consists of zinc sheets equipped with upstands in the longitudinal direction. Between the bays, so-called wood rolls are installed on the timber boarding. These rolls have a trapezoidal cross section with a width of 40-50 mm and a height of 60 mm. The water tight finishing between roof bays and wood rolls is obtained by a covering profile (roll capping).
Roll cap roofs are installed with clips on the timber boarding. The minimum width of a clip is 50 mm with a minimum sheet thickness of 0.65 mm. Depending on the assembly system, the clip is installed on or under the wood roll. Fixed and sliding clips must also be used with Roll cap roofs. The fixed clips fix the ridge track and the sliding clips allow expansion in the longitudinal direction. For the positioning of the fixed clips, the same rule applies as with a standing seam roof.
See also:
Ventilated roof built up Roll cap system
Damp proof roof built up with roll cap system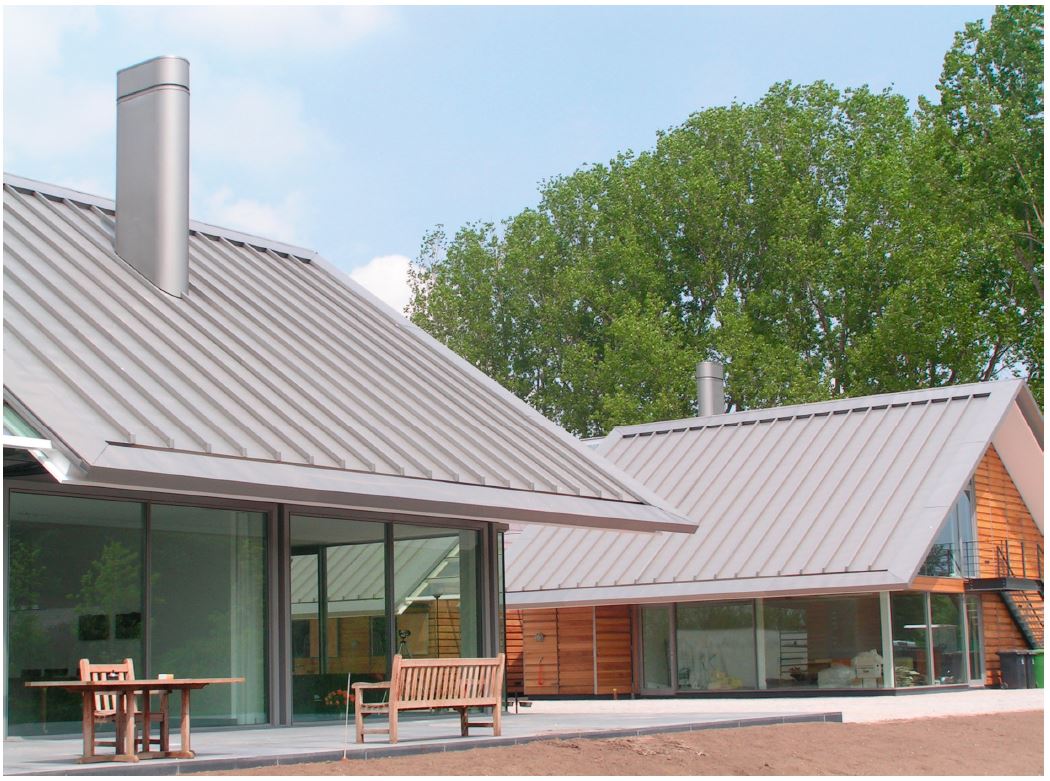 Specifications of Roll Cap standard components
Standard roll cap bay (figure 5.2.1)
Bay width: maximum 890 mm, with 2 upstands each 55 mm, girth maximum 1000 mm.
Material thickness: 0.80 mm or 1.00 mm.
Standard Roll capping (figure 5.2.1)
Cross-section: 65 mm x 25 mm
Material thickness: as for roll cap bay
Eaves apron
Width: 330 mm.
Material thickness: as for roll cap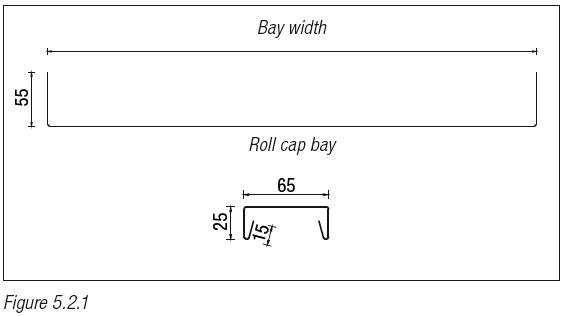 Clips (fixed and sliding) (figure 5.2.2)
Width: 50 mm. Length: > 220 mm.
Material thickness: as for roll cap bay
These clips are produced by the sheet metal worker. The length must have a little excess so it can be cut to the exact size during fitting. The fixed clips secure the roll cap bay and the sliding clips make longitudinal thermal movement possible.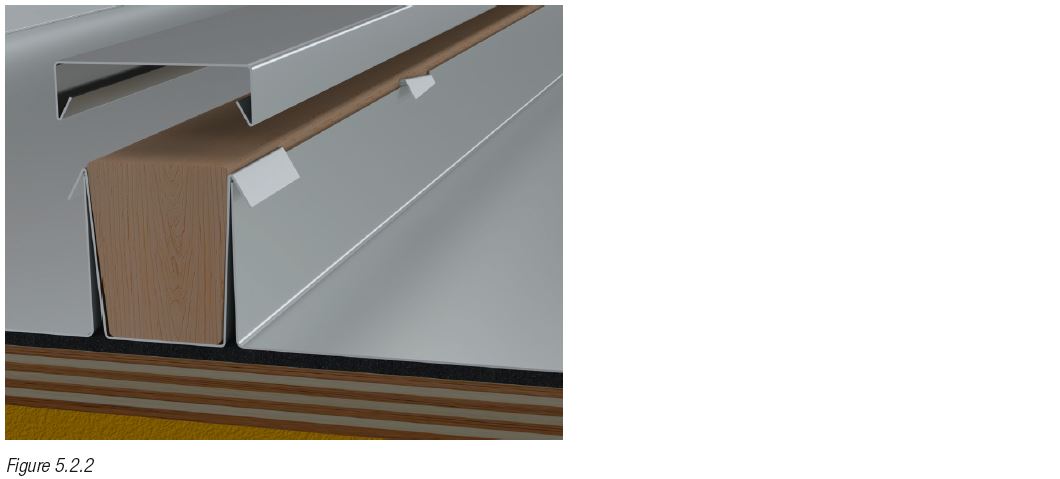 Wood roll
Trapezoidal wooden bar, of good quality, minimum quality class C compliant with NEN 5466.
Width: 40-50 mm, height: 60 mm.
The wood roll must be straight and made to measure.
Support
The roll cap system must be fully supported by unplaned, untreated wooden boards at least 23 mm thick, not tongue and grooved, with gaps of at least 5 mm.
The space between the boards can be larger, depending on the pitch of the roof, i.e.
roof pitch up to 45º 5 – 10 mm
roof pitch from 45º – 70º 5 – 50 mm
roof pitch from 70º – 90º 5 – 100 mm
The construction requirements are also important here. Use galvanised nails with a zinc-layer thickness of at least 20 microns or AISI 304 stainless steel for fastening.
Standard details
Below are some examples of typical details for roofi ng. These details outline the standard situation and serve as a guideline for applying the roll cap system on roof structures.