Rainwater drainage system
Weather conditions are becoming increasingly unpredictable. As a result, efficient and reliable rainwater drainage systems are crucial for protecting buildings and structures against flooding. NedZink offers a tailor-made solution for these rainwater drainage systems.
The drainage system is required to drain the rainwater that falls on the roof or facade. It consists
of gutters and downpipes and the supplementary rainwater drainage accessories. The gutters and downpipes of the NedZink drainage system meet the NEN-EN 612 standards.
→ Click here for more information about rainwater drainage systems → Hide information about rainwater drainage systems
Roof gutters
Zinc roof gutters are used for the collection of rainwater. The rainwater is guided through the gutters and downpipes into a sewer, other disposal point or collector. Gutters are produced in many forms and variations for numerous applications, such as suspended and box gutters, , concealed gutters and valley gutters.
The standard roof gutters are divided into suspended and box gutters. The suspended gutter has a semicircular cross section, which in the past was made using a piece of round wood. The box gutter has a box shaped cross section.
Rainwater downpipes
Zinc downpipes are placed under the zinc gutter and enable the collected rainwater to drain further to the sewer system or other disposal points. Rainwater downpipes are produced in various types. The most common is the round tube, but tubes with square, rectangular and other forms can be applied. The standard downpipes come with a soldered seam or a double seam. The diameter of the tubes is extended at one end so different lengths can be put together. To complete the drainage system the gutters and pipes must be fitted together with end pieces, brackets, bends, gutter outlets etc.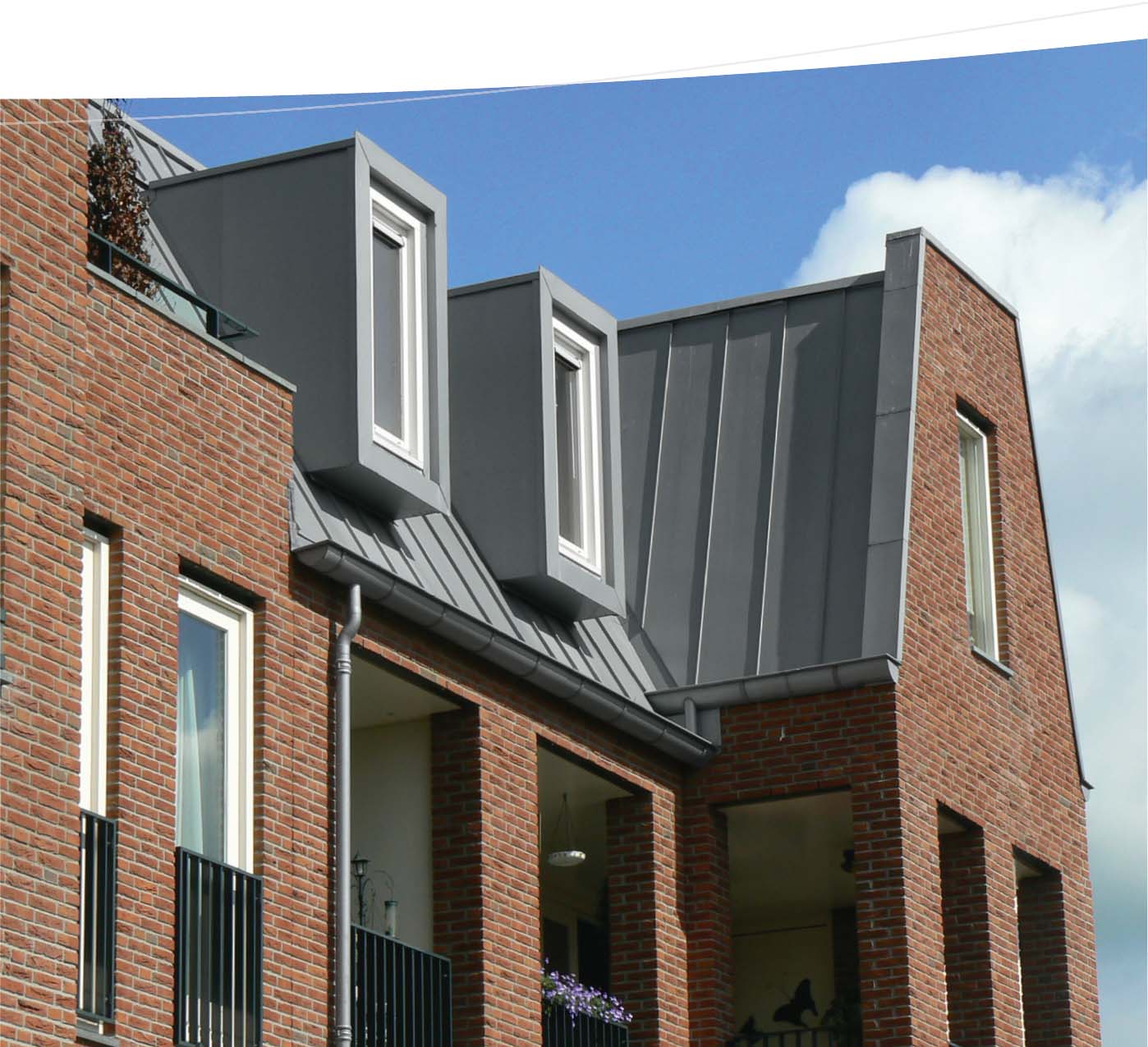 Request free zinc rainwater drainage system documentation and samples
Are you interested in a zinc rainwater drainage system and would you like to receive a sample or get in touch with one of our experts? Request information, a technical advice book or a sample without obligation: