Composite cassette system
NedZink NOVA COMPOSITE®
NedZink NOVA COMPOSITE panel is a prefabricated sandwich panel, with an LDPE core and covered on the outside with pre-weathered Nova zinc. NOVA COMPOSITE can be used in internal and external applications like facades, ventilated facades rain screens and interior design. The pre-weathered NedZink Nova on the exterior makes sure that you combine the advantages of zinc with the flatness of a composite panel.
Characteristics of NOVA COMPOSITE®
NedZink NOVA is NedZink titanium zinc that undergoes a patination process to give a fully natural colour. The uniform medium-grey surface of NedZink NOVA originates after a chemical surface treatment following the rolling process. No coating or lacquer layer is applied. The structure and composition of the patina layer that is normally naturally formed by weather influences is simulated, and the natural properties of the titanium zinc are fully retained.
Life span
Thanks to the application of zinc, NOVA COMPOSITE can guaranty a long life span.
Flexibility
NedZink NOVA COMPOSITE is very flexible. NOVA COMPOSITE can be compared with 3mm of solid zinc in terms of flexibility and this with only half the weight.
Flatness
Generally speaking NedZink NOVA COMPOSITE is much smoother than other metal sheet surfaces.
Processing
The processing of NedZink Nova is very similar to aluminium composite. The same tools and fixing materials are being used (screws, clamp connections and sub-structures).
Built up.
NedZink NOVA is NedZink titanium zinc according to NEN-EN 988 that undergoes a patination process. This is an alloy based on electrolytically cleaned zinc with a purity of min. 99.995 % Zn (Z1 according to EN 1179) with small additions of the alloy elements copper, titanium and aluminium.
NedZink NOVA is mainly used for visibly and aesthetically high quality applications in roofs and façades, and associated roof drainage systems and accessories. The chemical composition, mechanical and physical properties and the measurement tolerances are determined in the KOMO product certificate and the product certificate from Lloyd's Register, LRIQS (Approval QIS 122). The defined material properties are checked by an independent and neutral research institute six times a year. This product certification and the ISO 9001:2000 certificate for the quality management system at NedZink assure a constant and uniform high quality, meeting our own standards and far exceeding NEN-EN988.
LDPE Core: Low density polyethylene. The LDPE has the German DIN fire classification standard DIN 4102/ 1 class B2.

Processing Technique
Sawing
NedZink NOVA COMPOSITE panels can easily be sawn with Jig saw and circular sawing machines. When standard tools are used, zinc causes accelerated wear to the cutting edges.
Shearing
NedZink NOVA COMPOSITE is easily sheared with a guillotine. A slight drawing of the zinc cover sheet caused at the impact side should be noted. The clamp on the shear should be fitted with a shock-absorbing rubber pad to prevent damage to the cover sheet. If a sharp cut is wanted, start cutting or punching from the non-visible side. Minimum diameter of the perforation 4 mm, minimal distance between and distance from the edge: 4 mm.
Routing
NedZink NOVA COMPOSITE can be easily routed on conventional routing machines and CNC machines. To avoid pressure marks on the NedZink NOVA COMPOSITE surface, please use plastic or wood vice jaws when chucking the work pieces. Composite panels can be shaped by means of a simple processing technique. This procedure, the routing and folding technique, enables a variety of shapes and sizes to be manufactured. V-shaped or rectangular grooves are routed on the rear of the panels with disk or end milling cutters, whereby the zinc cover sheet at the front and part of the polyethylene core are retained. The small thickness of the remaining material then allows folding by hand. A brake press is not required. The groove shape determines the radius of the bend. Never bend zinc under 7°C -> risk of cracks in the zinc surface.

Bending
NedZink NOVA COMPOSITE can be formed by conventional metal and plastic fabrication methods. Certain specific points should be noted relating to the multilayer structure combining materials of different characteristics. The surface should be protected from damaged by affixing plastic film or inserting polyethylene of 1 – 2 mm thickness or plastic film strips during processing. The spring-back effect experienced when folding sheet metal is larger with NedZink NOVA COMPOSITE. For production series a prototype should be made.
Screwing
Please take the thermal expansion of the panel into account when using threaded fasteners outdoors. To avoid jamming, the hole diameter in the panel must allow for the expansion. Fastening without jamming is possible with fascia screws made of stainless steel with sealing washer that have been approved for construction. The screws must be suitable for the corresponding substructure (please note the information given by the manufacturer). The screws should be tightened with a torque wrench or screwdriver so that the sealing washer is placed on the panel for sealing the bore hole without exerting pressure onto the panel. Multi-step drills or hole gauges having corresponding diameters are used for centrically drilling holes into the panel and the substructure and for centrically fitting the rivet.
NedZink NOVA COMPOSITE panels can be fastened together or joined to other materials with rivets common to aluminium constructions. For outdoor use and for use in areas of high humidity, aluminium blind rivets with stainless steel mandrills should be used to prevent ugly corrosive edges. Please take the thermal expansion of the panel into account (2.2 mm/m/100°C). To avoid jamming, the hole in the panel must be large enough to allow for expansion. Mount the blind rivet in a sufficiently sized hole so the proper contraction and expansion of the panel is assured. Adjust the pressure of the blind rivet to the use, possibly using an attachment to distribute the pressure over the panel surface to prevent denting. Adjust the length of the blind rivet to the total thickness of the package (panel and material behind it). Test to ensure that the connection meets the requirements. In order to drill centred attachment holes, we recommend using a centring drill that drills both holes during one drilling motion. Please always remove the protective foil in the riveting area prior to riveting.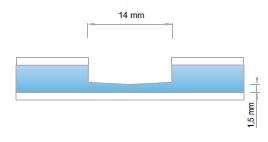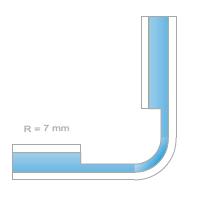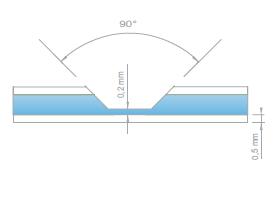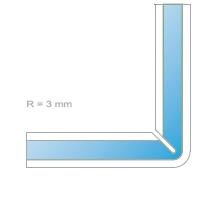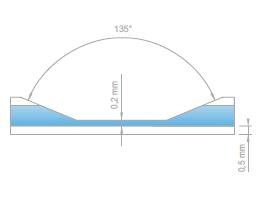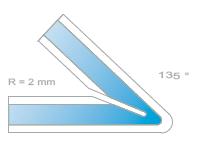 Gluing
Gluing NedZink NOVA COMPOSITE is possible. Please consult your glue supplier for information on which type of glue to use for your application.
Drilling
NedZink NOVA COMPOSITE can be drilled with twist drills normally used for metal and plastics on machines common for metals. Centre if necessary. To position an over dimensioned hole correctly when drilling attachment holes into a rear construction, we recommend using a countersink.
Screwing
When screwing the panel in the exterior, it is important to ensure that the water-resistance of the façade is maintained. Neoprene underlay rings with stainless-steel upper rings may be used for this purpose. To make free shrinkage and expansion possible, the hole in the panel must be big enough. The screws must be adjusted to the increasing load and meet the requirements. Tighten the screws with a torque wrench to achieve the correct pressure. If the panel is tightened too much, it will not function any more, and will warp and damage will occur. Always make a test piece to check that your tools are suitable for working with NOVA COMPOSITE. When working, always work with the rolling direction of the zinc. That will always be indicated on the back of the NOVA COMPOSITE panel.
Installing NOVA COMPOSITE
Generally speaking we recognize 4 basic types of installing NedZink NOVA COMPOSITE: Gluing, Clamping, Cassettes, Screwing. Next to these 4 basic types of installing other possibilities exist. In this case always do a test to see if your application is possible. It is always advisable to do a test to find out whether the requirements have been satisfied. There are no simple calculations available to make that determination. Zinc is a very durable metal but you need to take some precautions if you are installing NedZink NOVA COMPOSITE. Make sure that there is no permanent water on the zinc. Drill drainage holes were necessary to avoid this. See this manual (Chapter 10) what not to do with zinc. NedZink can never be held liable for any installation errors. When detailing cassettes it's important that the zinc patina will not be damaged. If the zinc patina no longer protects the zinc a phenomenon called "white rust" can occur. White rust is not under the guarantee of NedZink NOVA COMPOSITE. Take the right precautions while detailing Cassettes. Avoid standing water. Drill drainage holes of at least 8mm. Leave enough ventilation space between the composite material and the support structure. Avoid any contact with insulation material. With the right precautions you will enjoy NedZink NOVA COMPOSITE for many years. If you have any question on this subject, please contact NedZink.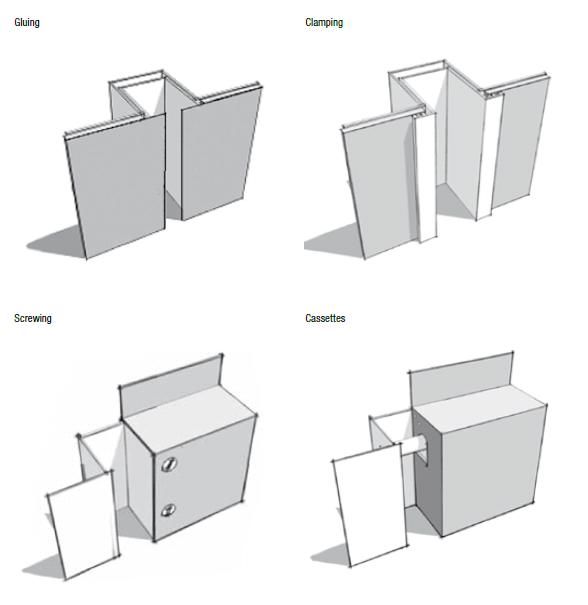 Maintenance
Generally speaking NOVA COMPOSITE does not need any special maintenance. The zinc surface will continue to patinate. This process of patination will heal small surface scratches; they will become invisible trough the natural weathering.
Transport and storage
The pallets must be handled carefully during transport and unloading. Do not handle open pallets.
Upon delivery the pallets must be examined for any damage due to moisture NOVA COMPOSITE panels that have become wet must be dried to avoid any spots or corrosion forming). Any damage must be reported immediately and confirmed by the forwarding agent.
Store the pallets so that they are protected against any wetness penetrating due to rain and spray water and avoid any condensation forming (e.g. when transporting cold panels to warmer rooms).
Store the pallets stacked one over the other .do not store panels standing vertically, with a maximum of 6 pallets of the same format stacked on top of each other (heavy pallets at the bottom).
Individual panels must be lifted off the pallet by two people holding all four corners and not drawn over each other. Carry the panels vertically. Wear gloves to avoid staining.
If stacking panels, nothing should be put in between to avoid markings.
The following should be observed as regards to the protective foil:
Storage exceeding 6 months should be avoided.
Strong fluctuations in temperature reduce the long-term durability.
Should the protective foil partially come off during processing, dirtied edges can occur in the course of time.
Remove protective film as soon as possible after erection. Protective film that remain on panels for an expanded period of exterior exposure may be very difficult to remove.